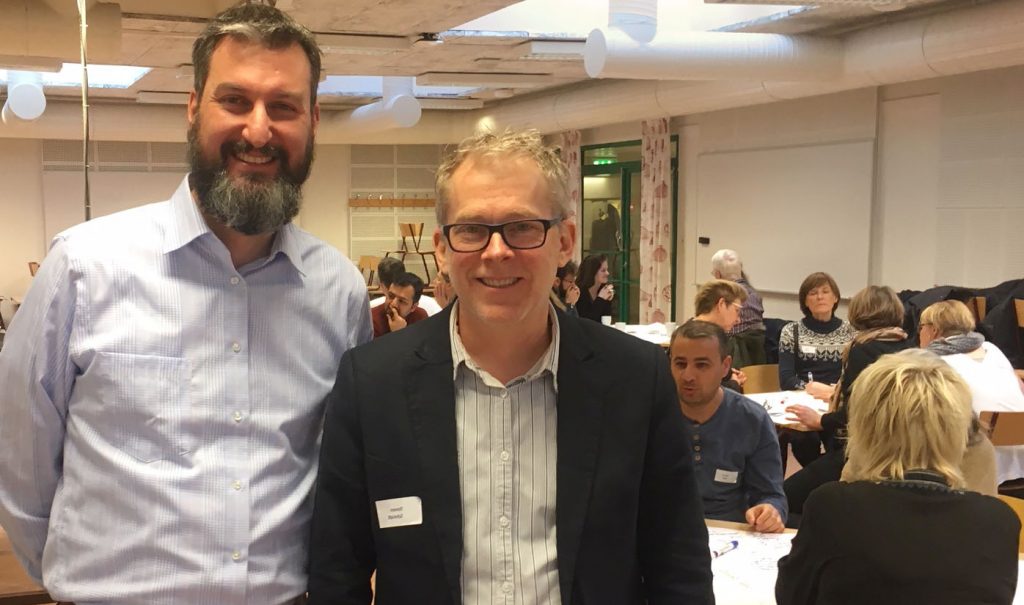 Last week, the MoRe Lab project leader Steven Schmidt organised the first "World Café". There is a high level of ambition: the lab in Lund is to be world-leading in health science research and success depends on getting stakeholders and partners involved at an early stage in the planning.
The day's invited speaker Alex Mihailidis from the University of Toronto and Steven Schmidt, project leader for MoRe Lab.
The participants, from three different faculties, LU Innovation, Region Skåne and the private sector, were encouraged by Steven Schmidt to brainstorm about future societal challenges, dream big and think about grant applications for projects that could be  conducted in the future lab. "During the day our focus was not so much on the specific types of research platform that we would like to have in the lab, but on the research issues and societal challenges that we are likely to face in the next 3 to 10 years", says Steven Schmidt.
Success factors and pitfalls
Alex Mihailidis from the University of Toronto was specially invited to the workshop to talk about the world-leading research infrastructure Toronto Rehab/iDapt. "Building an interdisciplinary and cross-sectoral lab means that a lot of new ground is to be broken. It is important to be out in good time to establish contacts with partners", commented Mihailidis. What are the most important success factors? Mihailidis highlighted three points:
Understand which disciplines are needed and avoid including research disciplines just for the sake of it. Collaboration is to be productive for all those involved!
Have the ability to understand and implement people's expectations. You must be able to show the added value for everyone who is involved, not only from the overall project's perspective, but also from the perspective of each separate discipline.
Provide the right conditions by having support and tools in place so that collaboration can take shape. This includes having the funding required to enable collaboration, and support regarding how to work in an interdisciplinary way in practice.
Mihailidis also called attention to the pitfalls of underestimating how difficult is it to work in an interdisciplinary way and not providing the required support at the outset: "Boundary-crossing research doesn't generally emerge organically. Some form of catalyst is needed. Good and productive collaboration will then continue to grow by itself and over time will need less and less support."
What happens now?
Steven Schmidt summed up the first workshop as a success and is positive about the interest shown by people for further engagement in the project. "The most important thing is to have created an interest among the participants for continuing to want to work with us in the development of MoRe Lab. In the coming weeks we will write a report to summarise the most important results from the workshop and plan for future activities. "What's important now is to work in parallel on several fronts to achieve the vision of an interdisciplinary lab. The project's basic aims include:
Using the new platforms that are to complement and increase current expertise at the Faculty of Medicine, Lund University and in Sweden. "We don't want to reproduce existing infrastructure or just increase capacity only to continue doing more of what we are doing today."
Building a laboratory that is totally unique in terms of the type of results that can be achieved, even though similar equipment is available at other places.
Creating an environment for interdisciplinary research and ensuring that there is a diversity of knowledge and end users. The project will focus on taking people from different disciplines out of their silos to think and work in new ways.
Continuing work on fundraising to buy equipment and fund research projects.